Exterior lighting management to save money and reduce vandalism in school facilities
Turning off lights is the easiest way to save electricity. K-12 schools in Canada and beyond are taking advantage of this simple strategy to reduce electricity costs, reduce electricity consumption and minimize vandalism.
Dark campus is a strategy to reduce electricity usage by turning off outdoor and indoor lighting when school buildings are not occupied. Turning off the lights can save money in three areas:
Reduces electricity consumption
Extends the life of lighting and electrical equipment
Discourages vandalism.
The focus is on outdoor lighting, such as parking lot lamps and fixtures on the outside of the building. While indoor lighting is often controllable by the building's occupants, outdoor lighting is managed by maintenance staff or it is on electronic controls or timers. Most staff will turn off the indoor lights when they leave a room, but few would turn off the outdoor lights (or even have access to their controls) when they leave a building.
Implementing dark campus is straightforward. School facilities staff can utilize existing electrical controls systems, building automation systems or even just install timers to turn off all lighting when a building is not occupied.
Saving energy by turning off the lights isn't a revolutionary idea. Dark campus practices have been documented in the United States since the 1970s, where a Texas school district began a black-out program at 19 schools in San Antonio.
All that is required is to turn off the lights.
Reducing energy consumption the clear benefit
It is no surprise that turning off lights reduces electricity consumption and utility costs. In addition, a reduced load on the lighting system will improve the lifespan of bulbs and fixtures.
The purpose of dark campuses is to light the school when it is occupied and turn off the lights when no one is around. For a school that is occupied from 7 am to 11:30 pm, this could reduce electricity consumption for outdoor lighting by half.
A school district in British Columbia reduced the costs for nighttime lighting at some facilities by 75%.
"Just turn the lights off and we're done," said Alex Telford, Manager of Facilities and Transportation at School District 27, noting how simple yet effective this strategy has been.
Larger facilities in School District 27 have less cost reductions because custodial staff tend to work later, but rural facilities with small custodial teams can be completely dark by 9 pm. In addition, Telford improved the energy efficiency of the exterior lighting that resulted in energy savings when the lights were on.
"Where it wasn't possible, we changed our lighting to LED," he continued, which can reduce energy consumption by 75% compared to conventional bulbs.
Crime and vandalism prevention
Darkness and crime don't always go together.
In the 1970s, public schools in San Antonio, Texas began a dark campus program and started to turn off their outdoor and parking lot lights. The schools experienced less vandalism and graffiti.
"We probably saved 40% on vandalism by going to lights out" – Dale Churchill
Dale Churchill has implemented dark campus at four school districts in British Columbia, with the first project starting in 2001.
"We won both ways on reduction of vandalism costs and on energy costs," said Churchill, who is currently the Director of Facilities and Transportation at the Abbotsford School District.
"How we came into was we just started an energy program but we more had trouble on the vandalism side. We started turning off lights and our vandalism started clearing up. Not eliminating, but we probably saved 40% on vandalism by going to lights out."
Churchill has observed reduction on historically challenging evenings, notable Halloween. Most vandalism and damage has occurred where the lights have been on. People don't like hanging around if they are unable to see.
There are a few more ideas why less lighting can contribute to reduced vandalism:
It takes time for passerby's eyes to adjust from dark to bright lighting, particularly in the case of unshielded flood lights.
Lighting is useful for criminals to see what they are doing, as per a 1997 report by the United States National Institute of Justice.
Occupancy is one of the biggest deterrents in criminal activity, and outdoor lighting is not a good indicator of occupancy.
The United States Department of Justice released a report in 1977 showing that outdoor lighting reduces the fear of crime but there was no statistically significant evidence that street lighting reduced crime from actually happening. The report recommended that street lighting be used in the role of deterring crime. On empty campuses, however, exterior lighting has less benefit to the school community and more to individuals seeking vandalism opportunities.
Keeping the campus safe
Although turning off the outdoor lighting may reduce vandalism and graffiti, it is necessary to keep students, teachers and staff comfortable. Everyone should feel safe when they are in and around the school.
To improve the sense of security, sufficient lighting is necessary when people are leaving or entering the buildings.
Churchill explained that safety is the primary concern of school staff when he started dark campus projects. The key to "misinformation regarding safety" is explaining to teachers and staff that the lights will always be on when necessary, including when they arrive and leave the school at late hours.
"Answer the safety question," explained Churchill.
"Ensure that lights will be on when they are in the school. When the building is not occupied, the lights are out."
Personal safety has become the biggest burden to implementing dark campus policies in post-secondary campuses in the United States, according to an American dark sky advocacy group.
"Facilities managers are usually on board with the idea, but the administration is generally not," said John Barentine, Program Manager for the International Dark Sky Organization.
"Here, the reason is driven by fear, specifically related to sexual assaults on campuses. There is a very strong feeling on the part of students that doing anything to campus lighting that doesn't result in more light will make the campus unsafe."
Barentine called for more education about lighting and safety.
"I'm told, anecdotally, by students who have tried to start these movements that they've received pushback from other student groups, in an organic way, about the personal safety issue. While our communications generally talk about the effects of bad lighting that can compromise safety, these messages aren't being heard on campuses."
With activities and events in K-12 more confined to regular hours compared to post-secondary institutions, it is easier for K-12 campuses to be turn off the lights at night and keep all staff and students feeling safe. But facility managers still need to address any and all concerns of personal safety before turning off the lights.
Tips to implement dark campus in your schools
Any facility can begin implementing a dark campus approach by turning off the lights. This can be done with the help of custodial staff or technology. Whatever method you use, here are some tips to get started.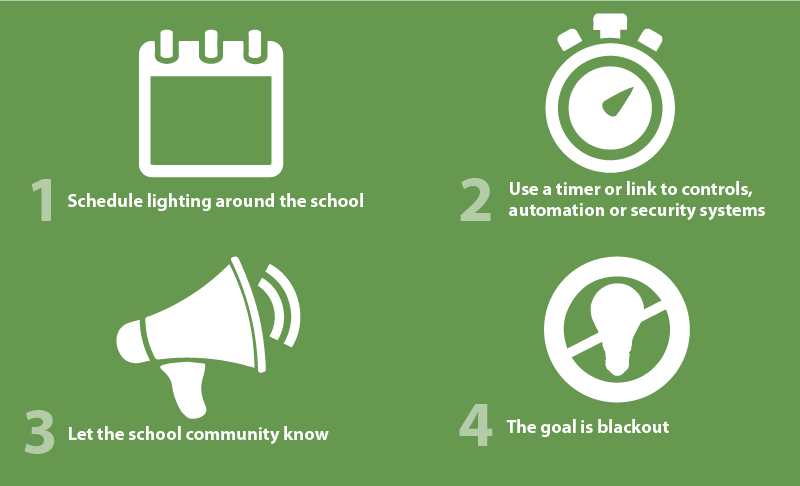 Schedule lighting around the school
The ideal schedule is dynamic and responsive to the school community. Exterior lights should be off after everyone leaves and on shortly before the first staff arrive. This is easier said than done, however.
Churchill schedules the lighting in his facilities around the custodial schedules.
"Our whole approach was we gave the custodians 15 minutes to get to their car and get outs, and the lights would go off. And the lights would stay off all weekend," explained Churchill.
"They come on 15 minutes before the custodian starts in the morning. If not, we time it an hour before school starts."
Simple or complex technologies will work
Use seven-day timers
Timers are simple yet effective tools to control exterior lights. Churchill estimates that around three-quarters of his facilities are controls by 7-day timers. Photocells are useful to automatically adjust for lighting, however Churchill said his experience with photocells has not left him convinced. They can be too sensitive to cloudy or overcast weather.
Link exterior lighting with your automation or controls systems
Automation and control systems are ideal to schedule exterior lighting, but there are a few issues that both Churchill and Telford have come across. Older or smaller facilities may not have existing automation systems. And if the systems do exist, exterior lights sometimes are not integrated into the systems and are either on all-the-time or set to independent schedules. If a facility has a building automation system and the exterior lights are connected, scheduling for dark campus is simple.
Link exterior lighting with your security systems
In School District 27, Telford improved the dynamic response of the outdoor lighting by connecting the lights to the intruder alarm system. This approach is "fairly complex" compared to timers or linking to the automation system, but it ensures lights go off as soon as possible. When the last staff leave for the night and engage the alarm system, the exterior lights are scheduled to turn off in 15 minutes and then turn on in the morning around 6 am.
Let the school community know
Inform staff, teachers, students, parents and the police or RCMP that you are implementing dark campus at your facilities. In addition to addressing concerns, this can assist security by informing the community to report any lights that may be seen in the middle of the night.
The goal is blackout
Although many facilities will not be ideal to go fully lights out due to infrastructure, scheduling and community considerations, the more lights turned off mean reduced electricity costs and potential for unwanted visitors to be spotted when they turn on a light.